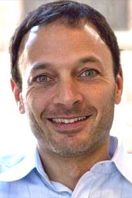 DAVID GOLDBERG
www.EdgeStudio.com
Presenting:
PANEL DISCUSSION LEADER – The Future of Voice Over
Q&A: Ask It All, Hear It All
The Future of Voice Over: What's ahead for you as a voice actor, and for the voice over industry? Edge Studio's David Goldberg moderates a lively panel discussion with Stephanie Ciccarelli of Voices.com, audio expert George Whittam, and voice actor/coaches Kristin Price and Johnny Heller.
Career training level: ALL
---
About David Goldberg:
David Goldberg is CEO (Chief Edge Officer), booth director and coach at Edge Studio, a leading voice over production and training company headquartered near Times Square in New York City, with additional locations including a facility in Fairfield, Connecticut.
Recognized as one of the world's leading booth directors and authorities on voice over, David says: "Although I never had the voice for it, I guess my ears work pretty well." Evidently so. David's ears are considered the best in the industry, and he is one of the country's most active voice over producers, instructors, and speakers. Since founding Edge Studio in 1988, he has directed thousands of voice over productions nationally and internationally.
David's background is unique. He began his career producing, directing and engineering music artists such as Mel Torme, John Mayer, Deep Purple, and Jose Feliciano. Over time, his studio became a place to record voice overs during the day and music at night. At the request of his professional voice over clients, he began offering voice over training sessions in 1991; in 1992 he wrote the first edition of the copyrighted Voice Over Technique Guidebook. In 2000, he transformed Edge Studio into a facility to produce, cast, and train for the spoken word exclusively.