CUSTOMIZE YOUR SCHEDULE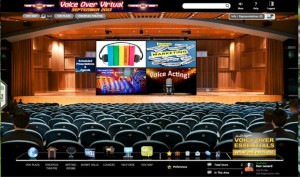 Imagine this: 50+ voice over education sessions with the industry's top professionals – conveniently enjoyed in your own home or home studio … or anywhere in the world with an Internet connection.
Educational sessions are pre-recorded, allowing you to customize this unique event to fit your personal come-and-go schedule and career training needs.
For instance: Got an audition or job or family obligation to rush to? Go ahead! Then return to access any and all sessions on-demand – up until November 30, 2013.
You will enter the multi-screen VoicePlex Theater to view these sessions, which are conveniently organized by career track. Choose a track screen and click on the training of your choice. And any time during the conference, also visit each presenter's Meeting Room for more info.
TRACK: AUDIOBOOKS
TRACK: BUSINESS & MARKETING
TRACK: HOME STUDIO & TECHNOLOGY
TRACK: VOICE ACTING